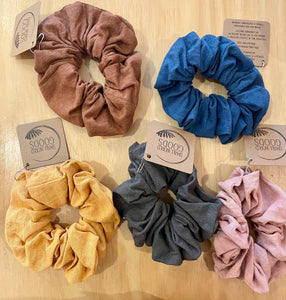 Made from handloomed, plant dyed cotton leftover from our own Small World Goods clothing line. These comfy scrunchies are ethically crafted in Kathmandu, Nepal.
100% hand woven cotton
100% natural plant dyes
Each piece will be slightly different & unique due to the special nature of the handmade process.
Thank you for supporting ethical & sustainable fashion!
Care Instructions for Naturally Dyed Clothing
- Hand wash in cold color with soft, PH neutral soap (some examples are ECOS, 7th Generation, Eucalan, & Woolite)
- If washing on the hand wash cycle of a machine, washing in a garment bag will help avoid snags
- Wash dark colors separately
- The colors of plant based dye will mellow over time, adding a whole new dimension to your wardrobe
- Do not bleach
- Hang or lay dry out of direct sunlight