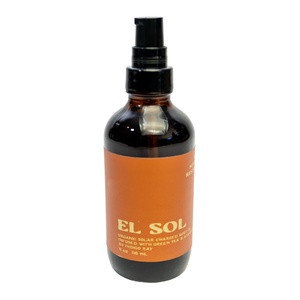 Sunshine in a bottle, hence the name El Sól! 
This powerful body oil is packed with antioxidants, minerals, rich in fatty acids, collagen, and soothing botanicals that trigger your skin's natural renewal process. Carefully distilled and fermented in the sun for three months. Calendula, rose petal, jasmine, kelp and arnica are all solar infused into hemp oil offering healing,  nourishment and calming restoration to your skin. This body oil penetrates beyond the skins surface, working overtime on maintaining a healthy glow and microbiome.
This body oil is perfect for all skin-types, even the most sensitive. 
Star Ingredients: Green Tea: A powerful antioxidant, helping to protect your skin from damaging environmental stressors.