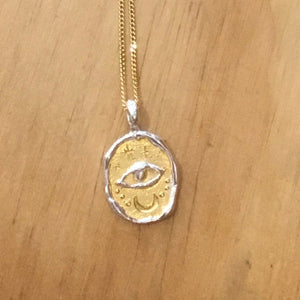 A powerful eye set in a glorious swirl of stars and crescent moon.
Designed by Meidy, in Bali. Ethically made by her network of local artisans.
Chain length approximately 18 - 29 in
Pendant size approximately 4 in x 3 in
Sterling silver plated in gold
Photo of Meidy and her mother, a big part of Meidy's business, below.
Jewelry Care
Care should always be taken to protect your jewelry from being worn away or scratched. Storing in individual, air-tight bags can help reduce or prevent it from tarnishing. Store in a clean, dry place away from direct sun exposure and other atmospheric elements. Avoid your jewelry coming into contact with liquid and chemicals such as perfume, sea water, and body lotions.