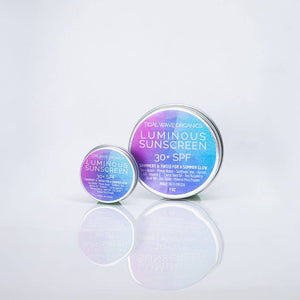 Handmade with love by Amber, in sunny Florida<3
Created with plant-based ingredients and naturally tinted with minerals and shimmery mica powder. Promotes beautiful skin with plant ingredients as well as a natural, luminous glow with mica minerals while also giving you broad spectrum, UVA and UVB protection with non-nano zinc oxide. It blends in smooth with a light shimmery finish that is great for all skin tones!

30+ SPF with non-nano zinc oxide for broad spectrum, UVA and UVB, everyday protection. It's recommended to wear at least 30 SPF daily even if you're going to the office. Because of the iron oxide in this sunscreen, it will even save your skin from your device's blue light and offer you more UVA protection (e.g. the rays that age skin)!


It's simple, healing, light, vegan and non-greasy so you can wear it as a light everyday tinted moisturizer with a subtle golden shimmer. This is great for all skin types as every ingredient rates low on the comedogenic scale (meaning they won't clog your pores).

This is perfect for those with:
- Sensitivities to scent
- Normal, oily, combo skin
- Looking for a shimmery tinted moisturizer (with SPF)

All our sunscreens are made with organic and natural ingredients that are;

- 100% plant and mineral based & cruelty-free
- Reef-safe
- Biodegradable
- Naturally water-resistant
- Non-comedogenic (won't clog pores so it's good to use as a facial sunscreen too)

There are 2 different sizes currently available.
- 1/2 oz mini aluminum tin
- 3 oz large aluminum tin


We strive to make sun protection for people who care about what's on their skin and the impact it has on the environment. Every skin care product you buy is a choice about the impact you'll have. I want you to feel good knowing that no harmful chemicals will ever be used in these products.

Every ingredient has a purpose, here's a bit more about them:

- Non-nano zinc oxide is a naturally occurring mineral that provides the only UVA and UVB protection approved by the FDA for children under 6. Non-nano means it isn't small enough to enter your bloodstream through the skin, always look for this when purchasing skincare with zinc oxide in it!

- Mango butter provides water resistance, keeps moisture in the skin helping it look supple and healthy and has some sun protection qualities. 

- Sunflower wax provides water resistance and has rejuvenating properties for the skin.

- Organic, cold pressed apricot seed (kernel) oil is light, easily absorbed and work well for all skin types. 

- Organic, cold pressed carrot seed oil & raspberry seed oil offer naturally occurring SPF and skin renewing properties

- Concentrated Vitamin E oil derived from sunflowers or olives helps repair skin damage and helps to naturally preserve your natural sunscreen.
- Iron oxides and mica powder are minerals that are mined from the earth and are used for color and shimmer. We strive to work only with companies that mine sustainably. 


Directions for use:
Use back of fingernail or bamboo spoon (provided with your purchase) to scoop out a pea sized amount. Warm between hands to melt sunscreen with body heat then apply to face and gently around eyes. The more you blend into the skin, the more the color will blend with your skin tone. Repeat for body application and apply generously before any sun exposure. Reapply every 1-2 hours as needed. Wear clothing that covers the skin, a hat or seek shade when possible to minimize sun exposure.
Ingredients:
Mango butter*, sunflower wax, apricot seed oil***, vitamin E (derived from sunflowers or olives), carrot seed oil**, red raspberry seed oil**, non-nano zinc oxide (18% concentration), iron oxide blend, mica powder
* Organic
** Cold pressed
*** Organic and cold pressed
Shipping:
All shipping materials used are recyclable and probably reused (like newspaper or other packing papers). Boxes and mailers are made with post consumer products and are completely compostable. The filler and packing tape are also recyclable and compostable! No plastic here!

*Please note that this sunscreen has not been tested in an FDA approved laboratory for efficacy. The SPF listed is an estimate based on the zinc oxide ratio and has not been tested on live subjects*

All statements are for informational purposes only and are not FDA approved.