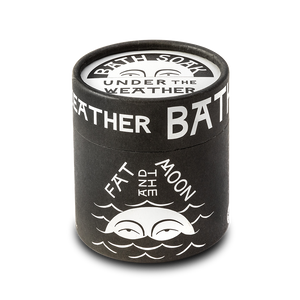 A cozy soak for when you're not feeling so hot. Under the Weather soothes the achy bod with mustard and the stellar combo of eucalyptus, rosemary, and clove essential oils. Warming and opening.
Bath + time = support of the rest and digest! Fat and the Moon is taking bath time to new depths with their soaks. The mineral-based soaks keep the ingredients suspended in the water, rather than sinking to the bottom to exfoliate your bare bum. Yowza! Exit the bath silky smooth and thoroughly pruney.
Let yourself open up to those parts that emerge and thrive when you take care of yourself. Scoop 2-3 heaping tablespoons into each bath and soak 'til pruned. Use 1-2 tablespoons for the babes and kiddos.