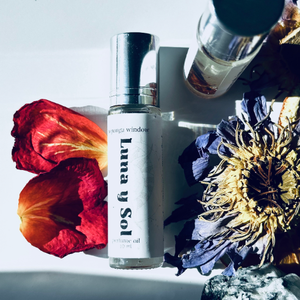 LUNA Y SOL
A beautiful light floral and bright citrus fragrance. Notes of Bergamot, jasmine, grapefruit, thyme and rose.
Handmade with love, by Angie, in New York. A blend of essential oils and natural fragrance. Made with fractionated organic coconut oil.
This oil is heat-pressed and has an indefinite shelf life. Free of parabens, phthalates and sulfates. LUNA Y SOL comes hand poured and bottled in a glass roller for easy use. Bright and beautiful dried florals in each batch. 
The name LUNA Y SOL was inspired by INCA MYTHOLOGY. Mama Quilla was the Goddess of the Moon, (LUNA). Inti is the Inca God of the sun (SOL) He was believed to be almighty, compassionate and competent of great kindness. In the cold Andean mornings the rising sun gave comfort and warmth to all after long dark nights. Still today symbols the gold colored sun are often seen in many Inca traditions and celebrations.
Topanga Window is an indigenous home and wellness brand created by Angie Terrazas to help care for the mind, body and spirit. Coming from over ten generations of indigenous Quechua background, Angie works to mold both her own indigenous story and the stories of others through partnerships with local and worldwide tribes. From Peruvian farmers to Navajo elders, Topanga Window works directly with each community to create genuine hand crafted items that hold true to the history and stories behind them. From flowers to herbs to crystals, she gathers only the best ingredients direct from the source, learning its best uses and practices along the way to then share with you. She takes pride in the items she create, working hard to mix both traditional practices and modern style for each item.