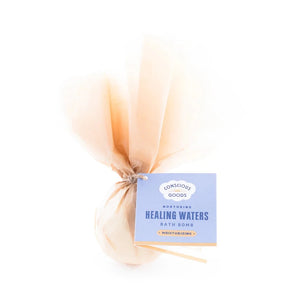 "There must be quite a few things a hot bath won't cure, but I don't know many of them." ~Sylvia Plath
Handmade with love here in Austin, by KC. She created this special blend when she was under the weather with flu symptoms. After soaking in Healing Waters, the results were none other than miraculous. We hope the next time you need a therapeutic soak after a workout, or just a stressful day, you will let Healing Waters nurture your body and soul.  These are our most popular bath bomb for good reason, they are truly rejuvenating.  
As with all Conscious Goods bath bombs, this is loaded with Avocado Oil and Essential Oils to leave skin feeling silky and hydrated. 
* Single Bath Bomb in Compostable Gift Packaging (as pictured)
Why is this a Better Bath Bomb?
Because, unlike most bombs, these are free of preservatives, chemical additives, and potentially harmful synthetic fragrances and dyes.
Because they're made from pure, natural, all vegan ingredients.
Because they're only tested on humans we love, some of whom have very sensitive skin.
Because your skin is your largest organ, and you wouldn't drink harsh chemicals, so we think you shouldn't have to soak in them.
Because this bath bomb packaging is compostable and recyclable ~ never plastic.  When you're done relaxing you can rest easy knowing you are loving the planet back with zero landfill trash.
and most of all….because of the way they make you feel!
Ingredients
MADE WITH ONLY: Baking Soda, Citric Acid, Corn Starch, Epsom Salts, Non-GMO Avocado Oil, plus Essential Oils of Lavender, Peppermint, Frankincense, Rosemary, Tea Tree and Wintergreen.         
Good to Know: This bath bomb is NOT recommended while pregnant or nursing.
These statements have not been evaluated by the FDA.