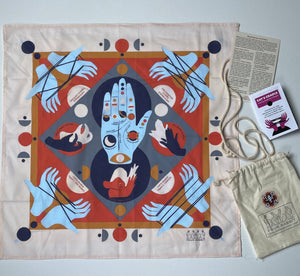 Made by Arielle, in Brooklyn. Wear and play Hand-Danna!
It's the handiest bandana you'll ever hold in your hands! Our Hand-Danna has all the hands on games, Cat's Cradle, shadow puppets, and a palmistry chart. Plus it's a handy dandy bandana which is super useful and looks great on.
The Hand-Danna is 21"x21" digitally printed on cotton. It comes in a travel bag with an instruction card, accompanying palmistry and Cat's Cradle instruction booklet, and a length of cotton rope. Go on, get handsy!