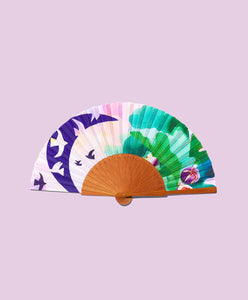 A FAN OF fans are unique pieces, handmade and locally made in Spain, using sustainable materials and processes. Our desire is to recover the fan tradition through an innovative, honest and empowered perspective. 
To connect with femininity, with its infinite capacity to receive who contains the light that the universe places on us. The capacity to give form and function, to transform energy into something tangible and share it with the world.
Classic size: Closed 23 cm, open 42 cm/100% cotton/Natural pear wood/ECO PASSPORT with OEKO-TEX inks/Recycled paper packaging. Designed in Barcelona and Made in Spain.