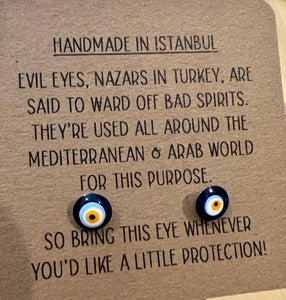 Tiny evil eye earrings for good luck everywhere you go! Nazars in Turkey are made to ward off bad spirits, or the evil eye. Pin this on and welcome goodness into your life!
Small glass stud earrings from Istanbul, Turkey.
Each piece arrives to you carefully wrapped with handmade notes about its origin, passing on a personal connection and adding a uniqueness to the shopping (or gifting) experience.