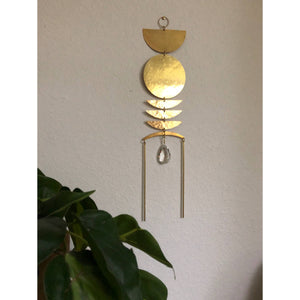 Handmade with love by Jessica, and her team of women, in Washington state.
Artisan-crafted sun catcher made from hand-cut and hammered brass sheet and vintage faceted crystal. These cast the most beautiful prisms. Ready to hang.
Dimensions: roughly 12" tall x 4" wide.
** Please note: our pieces are made by hand by our team of women artisans from hand-cut and hammered brass. Slight inconsistencies, imperfections and the natural beauty of brass are what make our pieces unique. P
RODUCT NOTES
This is a sun catcher for decorative purposes; not intended for use as a wind chime. Not recommended for outdoor use.
* 5% of Vida + Luz net proceeds directly supports Wipe Every Tear, and their fight to end sex trafficking in the Philippines.