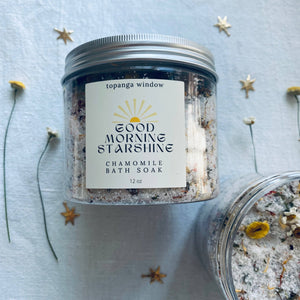 GOOD MORNING STARSHINE CHAMOMILE BATH SOAK
Handmade with love by Angie, in New York.
How you start your day matters. Prioritizing relaxation first thing in the morning is particularly important if you experience morning anxiety. Cortisol levels are the highest in the first hour of waking especially for those that have high stress levels.
This bath soak Angie created can help keep cortisol in check. She added stress relieving ingredients, like chamomile and magnesium salts and essential oils. A positive outlook during your morning bath  can also increase your productivity and efficiency. So treat yourself with some quality self care.
This soak followed by mindful meditation is guaranteed to be your new morning ritual! Reusable glass jar + white lid + spoon included 12 OZ
Topanga Window is an indigenous home and wellness brand created by Angie Terrazas to help care for the mind, body and spirit. Coming from over ten generations of indigenous Quechua background, Angie works to mold both her own indigenous story and the stories of others through partnerships with local and worldwide tribes. From Peruvian farmers to Navajo elders, Topanga Window works directly with each community to create genuine hand crafted items that hold true to the history and stories behind them. From flowers to herbs to crystals, she gathers only the best ingredients direct from the source, learning its best uses and practices along the way to then share with you. She takes pride in the items she create, working hard to mix both traditional practices and modern style for each item.